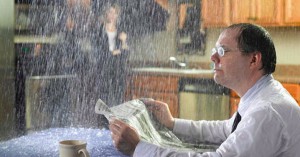 A tired old roof will tarnish your curb appeal and lead to thousands in lost equity. Worse yet, it could lead to severe damage and thousands in repairs.
Buyers are well aware of the importance of a well maintained roof.
When a buyer sees a warn out roof they raise negative questions such as, this roof probably leaks, this house may have water damage, and if the roof is bad what else is bad.
During the buyer's inspection period home inspectors may find issue even if your roof looks perfect from the street.
Roof issues will result in LOW ball purchase offers or worse yet your home not selling
How much can a roof issue effect your sales price?
This is a roof issue we dealt with on a listing back in spring of 2015.
The roof performed, no leaks, but was visibly at the end of life. There were multiple patch jobs with different color shingles clearly visible from the street.
We got quotes to have the roof re-shingled but the seller did not have means to have the job done.
Buyers who previewed ALWAYS brought up the roof as a concern.
By the time the home sold there had been $68,000 in discounts off the appraised list price. This was $57,000 more than the roof quote we got when putting the home on the market.
The good news is the home sold without having to do any repairs as the seller had no means to do them.
We do not enjoy seeing our clients loose out on thousands of dollars though. So here's how you are going to avoid a similar fate.
What you need to do RIGHT NOW
Have your roof inspected. Many roofers will inspect for FREE.
STEP 1: Lookup 2 or 3 roofers. If you are in Southern Arizona we recommend you start by visiting http://www.keystoaz.com/trustedpros/
STEP 2: Call each one for a FREE roof inspection.
STEP 3: Choose the one you are most comfortable with to do the maintenance and or repairs.
STEP 4: If offered obtain a no leak guarantee / roof warranty along with the work. Ensure the warranty is transferable when you sell your home.