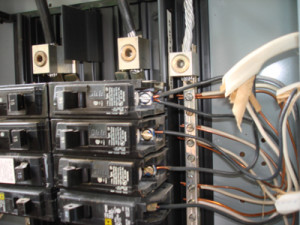 Can you tell me the problem with this picture?
Chances are a home inspector can. Every home on the market gets an inspection of some kind.
At a minimum the city or county inspector inspects every home when it is built.
During a transaction there may be a home inspector, appraiser, and contractors assessing condition as well.
Items flagged in inspections can be VERY costly for you, regardless if you are buying or selling.
I created a list of frequently flagged inspection items for you.
Click this link here to download the list of frequently flagged home inspection items.
We never recommend doing your own home inspections.
Knowing what is involved could save you thousands of dollars though.
Two quick stories…
Repair to an elderly widow's house
Work on house is required to be completed by a licensed contractor once, an agreement to sell is reached. Back in 2013 I listed and sold a property for an elderly widow.
This particular buyer requested a slow drain in the bathroom be remedied. The seller was forced to hire a licensed plumber to clean the drain with a wire brush at $50 per hour.
Quick confession, the elderly widow in my story did not end up paying the plumber. I breached the contract on her behalf. I told my client not to worry when we learned what the plumber cost. I went over and cleaned out the sink. This is not possible on most contracts and is a huge risk as the buyer can back out when they do not see invoices for repairs completed.
Would not it be nice as a seller to know what the items inspectors look for so you can avoid such costly repairs?
Young family wins bid for their first home
When buying a home you have time to inspect the it and ask the seller for repairs.
Our client was having difficulties getting a home in winter of 2016. They found one they loved, but the home had multiple offers. If you are not familiar, multiple offers is when several buyers are bidding against each other to purchase a home.
Our client could not outbid the other buyer. They had maxed out their home loan approval amount. Instead they waived their opportunity to request repairs. The seller quickly accepted their offer despite it was lower than the other buyer.
Why would a seller accept a lower bid? Knowing our client did not need any repairs increased the amount the seller would net in the sale.
Our client risked nothing doing this as she retained her opportunity to back out of the contract should inspectors find anything major. She also did a quick personal inspection before submitting her offer.
Inspection finding in picture
The picture has a double tapped breaker. This is when a second electrical circuit is added to an existing breaker. Double tapped breakers are a poor connection, create electrical arcs, overload the breaker, and are a source of fires.