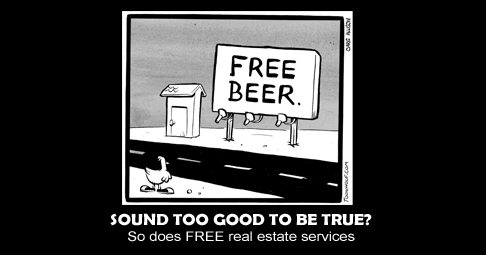 The world would be a different place if beer was FREE. A buyer's agent costs just like beer. Unlike beer though, we are hired to work for you…

FREE beer, really means, you buy tickets, pay cover, or pay someone else who pays for beer for you…
They just call the cost something else.
Your FREE buyer agents… are typically paid for out of the sale proceeds.
Proceeds the seller sees, minus, a "cooperative broker / co-op" fee.
A fee that is REQUIRED to be paid in EVERY transaction from the MLS to hire (or pay) the buyer's agent.
A fee taken from proceeds YOU pay.
Can commissions be avoided?
I am sure you are wondering…
Why not just skip the buyer agent?
Why not work directly with the listing agent?
Why not request a discount for representing yourself?
Or why not purchase DIRECTLY from a homeowner with NO agents involved.
Like in the bar, if you pay a cover that includes "FREE Beer" and you do not drink the "FREE beer"… You STILL paid for beer.
All homes in Arizona Multiple Listing Service (MLS) are required to pay a Buyer Agent Commission
If a home is listed in the MLS the listing agent is REQUIRED to payout a buyer's agent commission. Working directly with a listing agent means the listing agent collects your buyer agent fee despite you represented yourself.
All market values INCLUDE agent commissions
Realtors run a real estate market place known as the Multiple Listing Service which runs a bulk, nearly ALL the market. ALL sellers follow suite pricing the same regardless if homes are listed in MLS, directly by homeowners, aka For Sale By Owner (FSBO), direct from a home builder, or otherwise. Realtor commissions are factored into ALL market values.
Experience is critical in protecting your best interests (e.g. lowest price, best value, quick move in, etc).
You may buy home every few years at most. Even if you obtained your Real Estate License for fun, you likely do not have the experience of a full time agent. Going it on your own can mean, missing minor details worth thousands of dollars, weeks of stress, and missed opportunities. Ever changing details experienced agents know to look out for.
Listing agents, Builders, and Homeowners ARE CONTRACTUALLY OBLIGATED TO HELP THE SELLER NOT YOU… NOT YOU!
These folks are working to get the seller the best offer possible, at your expense! They are CONTRACTUALLY obligated to get as much money as possible, take fastest path to sold, and help sellers, at your expense. Having your own buyer's agent means you have somebody who is contractually obligated (if you hire them on buyer broker agreement) to look out for you and NOT the seller.
Quick Tip: May be counter intuitive but PAYING more than market average for an experienced agent can result in getting a better agent, and saving money in the end. Paying extra for an experienced agent may be the difference between getting a true professional who knows how to negotiate thousands of the price, getting you back their fee and more… Or a Real Estate Hobbyist who can push paper but has little experience otherwise.
The typical cost to us per transaction is around $3,000 to represent you. This is simply to break even on gas, MLS, Association, equipment, brokerage, taxes, insurance, and additional fees. Many if not MOST home sellers pay this cost on your behalf out of the co-op fees in the MLS. Ask your agent for more details.
Quick story about "Procuring Cause"
Years ago I met a young couple at an open house. They had hired a friend of theirs using a "buyer broker agreement".
I asked them if they were working with a Real Estate Agent to buy a home. They explained their agent disappeared once their loan application was turned down. So I took their info and helped them shop for a lender who could get them qualified for a home loan. Less then a week later we had a fully vetted pre-qualification letter to put in an offer on the home.
Their agent suddenly re-appeared and tried to get on the offer contract. Despite having signed a "buyer broker agreement" with their agent they were unable to use their agent.
Why?
Because of "procuring cause". I had done the work which lead to the offer contract NOT the buyer's agent.
Now this was good news for the young couple as their agent was not vested in helping them. She saw her client's as a means to a commission.
This can be bad news if you have a great agent though! An agent who truly does want to help you out.
You never want to loose a good agent OR the miss opportunity to choose your own buyer's agent.
Avoid the following "procuring cause" scenarios,
NEVER VISIT OPEN HOUSES
NEVER VISIT BUILDERS
NEVER VISIT FOR SALE BY OWNER
NEVER CALL ON LISTINGS
Hire your agent, with a "Buyer Broker Agreement" before entering the marketplace..
That is unless you hire the agent as a "buyers agent" using a buyer broker agreement.
Then have your agent do all this work and MORE on your behalf while obligating them to look out for your best interests regardless of who's who…
Claiming your "buyer's agent"
I believe STRONGLY in karma, what goes around comes around, either good or bad.
That is why before letting anybody hire me, I like to give you a taste of the marketplace and as much absolutely no strings attached FREE advice as possible.
This involves,
Defining your goals, what you want, and setting realistic expectations.We do this through our client intake survey. Understand that the key to your success is understanding EXACTLY what you want. Of course your expectations need to be realistic as there's no "FREE lunch or turn key homes for 50 cents on the dollar" so we need to be on the same page as what's possible.
A buyer tour so you can experience the marketplace first hand.This can be checking out the home you called for more information on. Or a couple recommended homes we know of. We like to get you out there so you know (1) what it's like working with us and (2) what the marketplace is like.
A custom strategy to finding your "ideal home".Despite marketplace figured in "agent fees" our goal is to EXCEED the marketplace. We're going to share any strategies we have UP FRONT we feel could help you BEAT THE MARKET. This also includes but is not limited to, home builder negotiations, FSBO transactions, turn key remodeling, and credit counseling. Everybody is unique and we look at your SPECIFIC needs to develop a strategy.
Introducing you to individuals that can help you meet your goals such as lenders, contractors, and other real estate professionals.No transaction is about just one person. It takes TEAMS of folks to be successful. We vet the best Real Estate Professionals on your behalf. This includes general contractors, title agencies, lenders, and the works. It's about team work and we're at the center of it all helping you.
This initial meeting takes about an hour of your time… And about a week of ours.
After that first meet up we ask that you "hire us" on a Arizona Buyer Broker form so we know investing our time in you will, help us pay for our "FREE Beer".
What to do next
Without having hired a agent, you have NO assurance ANY agent is obligated to represent you, even the one showing you around. If you choose to work with an agent and NOT hire them, then they are contractually obligated to get listings they represent the most money and NOT you. Hire them and they have to look out for your best interest regardless of which listings you look at and who represents them.
You absolutely HAVE to hire an agent before you enter the marketplace. This is not REQUIRED but is ESSENTIAL to a successful real estate buying experience. Here's how to get started…
Fill out your buyer client intake survey here. http://keystoaz.com/buying/
You will be contacted after filling out your survey to schedule your no obligation free consultation.
Hire your agent using the AAR Buyer Broker form
We recommend minimum 6 month hire, 12-24 months if credit repair needed.
PS. In all honesty, I do not drink beer. But want to thank you for hiring me as I do love to travel, love photography, and really do love protecting my buyer clients. Your trust in us means I can afford to put food on my table in addition to doing the things I love.