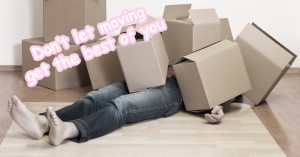 A little while back we had a listing with some moving troubles.
The home went under contract and the folks waited until the last minute to pack up for their move.
They were literally moving items up until minutes before the closing took place.
This lead to a LOT of stress. The buyer's moving van was sitting out front while the sellers finished up.
As a general rule we advise clients to be FULLY moved out NO later than 3 days prior to the closing date.
Planning ahead of time makes for a MUCH better experience.
6 Tips for moving out
Tip 1: Live by the 5 year rule
No matter when you plan to move assume you will be moving ONCE every five years. Take all your extra clutter box it up and move it in the garage. If you don't pull the items back out of the garage in the next few weeks to use them then they get DONATED. This helps keep you honest with yourself about what you truly do and don't need.
Tip 2: Choose a location to store your items for the big move
When moving you need a place to setup the boxes, pack them, and store them for a short while before the moving truck arrives. This place should be out of the way. The garage or a utility shed typically works great! If necessary make it one of your spare bedrooms but try to get the items out of the way so you are not tripping over them while packing.
Tip 3: Start your move NOW
Know you are moving? It doesn't much matter if it will be in 6 months or 2 weeks you need to start moving your items out now. The last thing you want to do is wait until the last minute as so many people do. Get it over with now, you will save money and avoid stress.
Tip 4: Declutter Declutter Declutter
Move the small items out. Package them into your boxes in the staging area. Leave only enough items in your home for you to get by as if you are going on a road trip. You should be able to package the remaining items in a suite-case per person when you finally move out.
Tip 5: Get rid of it now
It never pays to move something then unpack it and throw it out later. When you are packing your items have two piles. One is for the move. The second is for discard / donation.
Tip 6: Don't forget to move your dirt out
Before you close the door for the final time make sure to deep clean your home. MOVE all the dirt out! When you go to sell your home this will make a world of difference. You'll also want to touch up places in the paint & baseboards where you nicked the walls moving items out. Also consider having your rugs steam cleaned and or replaced.
Leave these items behind
Appliance manuals, home maintenance records, & touch up supplies
As you come by items that belong with the house make sure to place them in a safe spot. This might be a drawer in your kitchen or utility room. You will also want to leave your touch-up paint, spare tile and supplies behind as well.
Home keys & remotes
While you are packing up place your home keys, mailbox keys, garage remotes, fan remotes, and the works into a safe spot with your home file from previous tip.
Home care essentials
It never fails you get moved out and then somebody spills soda on the rug, or the front door becomes inundated with leaves. It's wise to always leave behind a few home care essentials. This can be a broom & dustpan; rug vacuum; paper towels; toilet paper; few rags; bee & hornet spray; weed spray; mop & bucket; glass cleaner; and any additional small cleaning items. Leaving these behind can make all the difference in such emergencies, especially after your home hits the market.
Unwanted furnishings
Have a kitchen table and chairs, or sofa you don't care to keep? Consider leaving it in your home to act as staging, especially if it's in reasonably good shape. Sometimes having a few furnishings can make all the difference in a sale. Don't forget to inventory these items left behind and assign a small / reasonable price for each. They also double as excellent bargaining chips when negotiating with buyers.
Accent items
Have random knick-knacks that might help accent your home? Say it's a cook book, place settings, bar stools, movie posters, etc. You can leave these behind to stage your home. Keep in mind no more than 3 items per surface.
Need a good listing agent to sell your home?
Visit this link and fill out our client intake form. We'll be in touch with you to provide you custom stragies per your specific needs and sell your home!
http://www.keystoaz.com/seller-application/
There's no obligation, and your information is kept confidential. Simply fill out the 5 minute questionnaire and we'll get in touch with you.