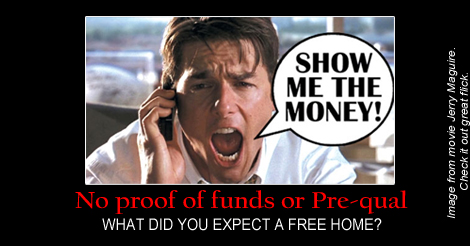 I bet you love FREE stuff.
I have news for you nobody is giving you a FREE home.
You can use somebody else's money (next best thing).
Or your own.
Here's how…

Using somebody else's money
You will get in touch with a lender. We recommend NOT working directly with your bank but rather through a mortgage broker who will shop you the best rate.
I recommend starting with our list of approved mortgage brokers here, KeysToAz.com/trustedpros/
Step 1 Turn in a loan application
Contact the lender / lenders you selected to turn in a loan application.
You need to shop them at the SAME time as (1) interest rates fluctuate and (2) they will pull your credit which can effect your score. To minimize impact on your credit score shop within a week time frame.
Lenders will request documentation to determine your qualification amount so have the following items handy,
Last 2 years of tax returns
W2, 1099, and or self employment income statements as applicable
Pay stubs
Bank Statements
Step 2 Obtain an Arizona Association of Realtors pre-qualification letter
The lender will need to provide you a pre-qualfiication letter.
Click here to see a copy of the Pre-Qualification form This letter shows,
That required financials have been reviewed.
You qualify for a home loan.
Budget bank allows you for a purchase.
Interest rate and type of financing used to calculate your budget (not necessarily rate you get).
and more.
Note you HAVE to turn in the requested docs to the lender. Otherwise you only have a VERBAL pre-qualification letter.
Sellers WILL NOT accept verbal pre-qualification letters.
Step 3 Down payment
Making a down payment? You need to present proof of funds for your down payment as seen in next section.
Using your own money aka cash
You will need to collect a proof of funds to cover your budget and any offers you make.
Note: You will need proof of funds in US Dollars. No investments such as stocks, mutual funds, or foreign currencies.
There's a few ways you can do this,
Option 1 Bank Statement
Provide a bank with your name on it and account number crossed out. This shows sufficient funds to meet your home buying budget.
Option 2 Letter from your banker
Provide a letter from your banker and contact info where we can follow up to ensure sufficient funds for your budget are available. This method provides a little more privacy.
Help from your rich uncle
There's other ways to fund your purchase. These need to be clearly documented BEFORE you can start shopping.
Option 1: Rich uncle aka private lender
Have a rich family member or generous friend? They can either GIFT you the money preferred or provide you a private loan. Either way we need proof of funds from them.
Option 2: Co-signer
Have a family member who will help you get the loan. They need to sign on the title to do this and be a part of the offer. If this is the case they need to apply for the home loan.
Option 3: Seller Financing
If you already qualify for a loan… or nearly qualify for a loan, then a seller may be willing to finance you. This seller will request at a minimum a current copy of your credit report. They will also HAVE to own their home outright. FYI ~ If the seller was to have an existing loan on their property, this would be a wrap. Wraps are BAD news, most lenders have a due on sale clause and the home would be repossessed by the bank.
The Cash Myth
People often say sellers give better deals to people with cash. This is not necessarily the truth.
Most buyers using a loan ask for the seller to cover their loan closing cost. This reduces the net proceeds to the seller versus a cash offer which has no need for loan closing costs.
Offering accordingly with a completed pre-qualification form makes your financed transaction good as cash. The only difference is the financing contingency and extra time required to close a transaction with a home loan.
The short of it is, a good agent can present your financed transaction in such a way it's just as good as cash. Make sure you complete your financial paperwork so we can present a STRONG offer.
What you need to do next
BEFORE YOU CAN SHOP FOR A HOME YOU NEED TO PROVIDE REQUIRED FINANCIAL DOCUMENTATION.
For homes loans
Contact a lender(s)
Apply for loan
Turn in requested financial documentation.
Get a pre-qualification letter.
Provide Proof of Funds in US Dollars for your down payment
For Cash
Obtain a bank statement or letter from banker showing funds in US Dollars to cover your budget.
For private money
Apply for a home loan
Obtain proof of funds in US Dollars from private investor.
Seller financing, ensure there is no home loan / liens against property.
Need help finding a home? Get started by visiting KeysToAz.com/Buying/ watch the short video and click the link to fill out your home buyer questionnaire.