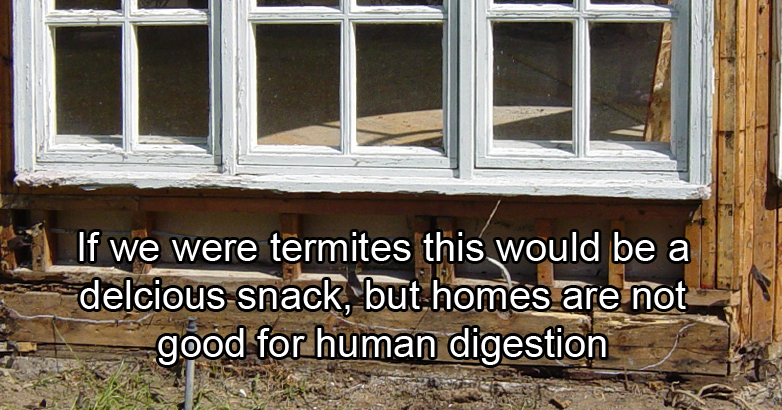 Are you scared of BUGS????
I am and I know buyers are SCARED to death of BUGS… So scared I'm not even going to be able to do a price adjustment on pest issues because these homes do not sell.
Pests including termites are superficial problems that can EASILY be remedied. However, they cause irreparable psychological damage to the transaction.
You either address pests up front or your home will not sell. Worse yet your home could be labeled as the bug house and become completely unmarketable.
What happens when buyers see bugs?
From time to time we see sewer roaches in vacant homes. They crawl through dried out sewer drains into the house. When they show up, dead or alive, my clients literally RUN out the door. The seller looses a buyer every time.
Wood destroying organisms, such as termites, are a HIDDEN pest. They snack on your home and over the course of time can destroy the structure.
No homes (in Southern Arizona at least) are immune to termites and most termite inspections bring up something. Contracts do not require pest remediation but buyers always do after the pests are discovered.
Moral of the story is, there's NO escaping pest issues as a seller.
Keep pests from pestering your sale
We have a fool proof way to keep pests from pestering your sale.
STEP 1 MAKE FRIENDS WITH A PEST PROFESSIONAL
Even if you plan on do-it-yourself pest control you will ALWAYS need a pro in your back pocket for tricky to tackle challenges.
You need to make friends with at least one pest-pro who is experienced with termites. Sticky their info on your fridge…
If in Southern Arizona start your pest-pro search here, http://www.keystoaz.com/trustedpros/
STEP 2 MAINTAIN A DEBRIS FREE SILL PLATE
The sill plate is where your exterior walls meet the foundation. Debris makes it easier for pests gain access to your home through the sill plate and for harder to treat for pests. Appraisers may require the sill plate be clear of debris before a buyer can finance the transaction. A 3 to 4 inch section of foundation below the plate must be kept clear of debris (including landscaping).
STEP 3 KEEP MOISTURE AWAY FROM FOUNDATION
Plants and irrigation systems near your foundation draw moisture. Moisture attracts bugs, pests, and rodents. If you have landscaping near your foundation or any other other hardscaping (sidewalks, driveways, patios, etc) REMOVE it.
We recommend rock boarders. These help drain water away from your hardscaping. They look great keeping up your curb appeal.
Also make sure your lot drains to the street without leaving any standing water near your foundation.
STEP 4 PERIODICALLY TREAT FOR BUGS
Treat the sill plate on the exterior of home and (optionally) interior for pests. You or a professional will treat your sill plate, eves, vents and other locations pests enter your home. Treat every two to three months with more frequently application in rainy months.
STEP 5: SCHEDULE PEST TREATMENTS ON VACANT HOMES
Schedule pest services to spray for bugs on a routine basis while home is vacant. You will also want to have them run plumping fixtures (or treat) to keep sewer roaches out. Have someone go in as needed to clean up any dead bugs resulting from the treatment.
Do-it-yourself pest control
Most pest control can be done by yourself in a few minutes per month.
TIP 1 PURCHASE A PUMP SPRAYER
Mixing concentrate chemicals and treating yourself only takes a few minutes. Treatments can be applied as infrequently as every couple months and remain effective.
Self treatment requires a pump sprayer you can purchase at any hardware store. The metal ones work best but may need special ordered. Here's one on Amazon, http://amzn.to/1ERjqtg
FYI ~ Amazon link is an affiliate link. I need to thank you as I get a parsley commission if you purchase through it.
Note: You will need a second sprayer to mix interior chemicals if you plan on treating inside of home as well. Interior chemicals are safer / less harsh.
TIP 2 PURCHASE CONCENTRATE PEST TREATMENT
Whatever you purchase for exterior treatment should be capable of treating for termites. You will mix this with water in your sprayer.
You will also want to purchase (1) respirator and (2) eye protection. When completed treating wash cloths and shower. Most chemicals are not that bad however, you can never be too safe 😉
TIP 3 ALWAYS KEEP BEE AND HORNET KILLER ON HAND
Hornets and bees come and go. You may have never had them then discover an infestation the next day.
If they establish a hive in your attic space then your home can be completely destroyed. Periodically walk the outside of your home and look for evidence of infestation along eves and patio ceilings.
It's also recommended they inspect interior and peak in attic space from time to time. At first sign apply killer and reinspect to ensure they are gone. You may also need to hire a pest professional if they are spotted.
TIP 4 SPOTTING EVIDENCE OF TERMITES
Termite tubes are easily spotted on side of foundation just below sill plate. You will see a small mud tube extending from the dirt to the sill plate along the foundation (this is actually made of termite feces).
Spotting a tube means your termite barrier is no longer effective in that spot. It will need reapplied and foundation treated in that spot. Having a termite warranty means all you have to do is call your termite company and they handle the rest.
NOTE: Foundation / Sill plate inspection is only ONE way of spotting termites. There are numerous others that require equipment and professional assistance to spot.
TIP 5 LOOK FOR HOLES IN EXTERIOR OF HOME
If there is evidence of holes in your eves, on roof, exterior walls, along sill plate, etc have them patched. Rodents can gain access through these holes and eat your home. Quick story, a rat gained access to my friend's home through a small hole in the roof. He ate the poly-pipe / plumbing in the attic and cost them $15,000 in plumbing and water damages.
TIP 6 AVOID ADDING PEST INVOICES TO THE SETTLEMENT STATEMENT
Everything on the transaction settlement statement goes to the lender. This could through a wreck your deal if a buyer is financing your home. Only send invoices through escrow, adding to settlement statement, when expressly required. Or better yet resolve ALL pest issues before listing your home.
What you need to do RIGHT NOW
Most termites in Arizona, live in the ground. They burrow through the soil around your home to gain access. The most popular treatment is a chemical barrier applied to the soil around your home. Termites will not pass through this barrier. The barrier breaks down over time and needs periodic application to remain effective. A barrier can easily be $700 to $1000+ and when buyers find termites they typically request a completely new barrier unless your home is already warrantied. Prior to LISTING your home for sale get a clean termite report and warranty.
Hire a licensed pest company to inspect and recommend best termite treatments for your home.
Complete prescribed treatments for a pest free property.
Obtain a copy of the clean termite report, as well as have them file with the state (they will know what this if you request the do so).
Order a transferable termite warranty from your pest company. The warranty covers reapplication of chemicals and removal of termites when found. This is invaluable once under contract as any termite discoveries easily cost upwards of $500 for treatment. The warranty treats them for cost of the yearly premium.
Lastly, advertise your home as pest free with transferable termite warranty.
PS. Pest issues will not affect your sales price, they are far worse. They will make your home COMPLETELY UNMARKETABLE. Make sure to keep on top of pests and keep an eye out for next week's tip!