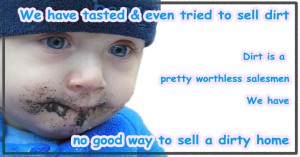 I used to LOVE playing in the mud as a kid.
One day my friends made a mud pie.
It looked scrumptious like chocolate cake.
I did what all other four year olds do.
I obliged myself chowing down a fine slice of pie.
That was no chocolate cake though!
I kept a straight face, even swallowed. Then smiled sporting my dirty chops.
Learn to love buyers & hate dirt
Eating dirt scared me for life. Now I am disgusted when I see people living in filth let alone trying to sell a dirty home.
Buyer's hate dirt too. They LOVE clean move in ready listings.
Do you know how to deliver on what buyers love?
If so you have a fighting chance of selling your home fast and for market value.
Lets find out how…
Step 1: Don't make haters make appreciators
Buyers basically want a clean, safe, and move in ready home. Ignore this and they will hate your home.
We do not want your feelings to get hurt so lets make a home they appreciate.
Follow these tips and you will have a home buyers are sure to appreciate
Declutter home leaving only tasteful items that illustrate the floor-plan
Remove miscellaneous from your home. Store them in your garage, donate, or sell your excess. Less is more. There's a rule of thumb in staging homes. It's the rule of 3. That is no more than 3 items per surface, wall or room. That is no more than three items on a counter-top (or shelf). No more than three wall hangings on a single wall. No more than three main pieces of furniture in a room. What remains should illustrate the layout of your home (e.g. bed in bedroom, sofa in living room, kitchen table in kitchen, etc). It must also match the space and not be an ugly distraction.
Maintain a clean property and home
Nobody wants to buy your dirt. Make sure you have a REAL shine on your home. Clean top to bottom even those spots you typically do not including, closets, window tracks, behind the toilets, etc. The entire yard as well, clean out your rain gutters, old debris behind under bushes, etc.
Modernize your home
Set a budget of a few hundred bucks. Go through and replace a dated fixtures (light fixtures, plumbing, door knobs, etc), if you have them. Note your goal is to be up to par with what is in your neighborhood / latest style. This will make a big DIFFERENCE.
Move in ready


Paint in good shape and neutral colors ~ white beige, light grey, etc. If you have wallpaper, purple, green, or red rooms refinish in more neutral colors.
Roof in good shape, needs no maintenance. Recommend having inspection by a roofer. Repair whatever they recommend and get a transferable leak guarantee on their work.
Heating & AC System professionally serviced within last 6 months. Everything must be working perfectly.
Pest recent termite / pest inspection and warranty in place. Get a clean wood infestation report.
No pending maintenance all maintenance & repair  issues are resolved.

Priced at or under market value
Priced correctly. That means priced at the lower of, (a) within 5% of similar properties sold in last 6 months or (b) active competition whichever is lower.
Step 2: Be the home buyers love
Being a listing buyers love is not rocket science. It's a matter of looking at homes which buyers have snatched up quickly in the past and putting in a little elbow grease.
There are certain things buyers simply cannot resist and they even pay more for them in which case it does not hurt to throw in a few extra bucks to have them done.
Offer these things and you are sure to have a listing that buyers not only appreciate but LOVE.
Advertise transferable home warranty with sale
Accept or counter offers, NEVER reject them
Include all appliance with sale of home, washer, dryer, fridge, oven/stove, & dishwasher
Make your home EASY for buyers to preview on short notice
Draft courtesy contracts with listing information already filled out for buyers to use
Have professional photos taken of your home.
Lastly, paying a full co-op to the buyers agent, even offering a bonus, will make sure you get plenty of buyers in your home. Paying less will have the opposite effect. You may get nobody through the home. Contrary popular belief, there are a LOT of Real Estate Agent expenses. If you discount your buyer agent commission then agents cannot afford to sell your home.
Step 3: Be hottest home on the market
There are homes as hot as the hottest celebrities and super models.
Being the hottest home on the market may come at a small cost but is well within your grasp.
Make buyers FLOCK to you like a box office hit!
Share your plans to move with buyers BEFORE your home goes on the market
Have your home professionally staged using your items or items you rent
Create a cover letter introducing yourself to perspective buyers
When countering offers attach cover letter stating reason for your counter.
Share a couple of your favorite stories about home in the listing advertisement
Offer the buyer's agent a bonus to bring you a buyer before other homes come on the market
Purchase a pre-listing home inspection & repair all items flagged by inspector
Be prepared for future buyer objections. Shop turn key upgrades buyers can do after closing (flooring, counter-tops, landscaping, etc)
Create an incentive budget for short term special offerings (eg. pay for buyers inspection report if offer this week)
Each item makes your listing a little bit hotter… It makes more buyers interested in your home than others like it on the market.
Doing these things is NO GUARANTEE that your home will sell faster or even for market value but rather an increased chance of doing so. Nobody can guarantee a weather forecast let alone future market conditions. Most all of these tips are free though so nothing to loose!
Step 4: Preparing for your first preview
It's your first big date with a buyer… Actually take a deep breath.
Your agent will be meeting with you first preview.
They will be taking photos of your property and will have advice to share with you on showing your home.
Get the basics down before they visit so you can hit the ground running.
Prepare your home for showing
Turn on all lights inside and out
Open all window shades
Remove all window screens & solar shades
Put all toilet seats down
And ensure home is CLEAN & FREE of clutter
When buyer's visit consider also
Regularly airing out your home.
Playing light music in the background.
HVAC on comfortable setting (slightly cooler in summer / slightly warmer in winter than outside)
Bottles of water in fridge & small prepackaged snacks.
Table and chairs to relax and or write offers at.
What you need to do now

Performing these tips helps keep your listing competitive reducing marketplace risk and increasing your chances of a timely sale.

Print this article off and use it as a checklist ~

Step 1: It is essential you go through every step and check them off as they are done.

Step 2: when you go on the market advertise accordingly.

Step 3: Looking to go the extra mile, want to make sure you are in the mix with the top 1% of listings? Perform items recommended in Part 4.

Step 4: Get your home ready to show.
Word to the wise ~ No effort will help you best the market. Outsmarting the market is a game of sheer luck invoking great deals of risk and one we never recommend you play. Follow the tips in this article and you will increase your chances to sell fast and for market value when you list your home.