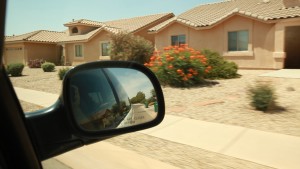 One of the biggest mistakes I see people make is failing to explore communities before they preview homes.
They look online exclusively or they rely totally on their Realtor to find their home.
They never hop in the car and cruise around town.
They never drive by any of the listings they see online.
Instead, they jump in their agents car completely unfamiliar with what they are about to see.
Why cruise communities?
Let me share a short story with you…
My client goes for a motorcycle cruise  each weekend. When looking for his home he made it a point to drive through residential areas.
On one such cruise, he found a absolutely stunning property in a luxury community. This home is on the crest of a hill with unobstructed mountain views, pool, hot tub, and the works.
Their budget was for far less than homes sell for in this community. When he showed me the listing realized we could get him this home though.
This home was marketed very poorly in an obscure MLS database. You could not make out the mountain views or the upgrades in the home with the pictures on the listing. Really the only way anybody would have known about this property is by driving by it.
This address had been on and off the market for over 2 years. It was also listed as-is which scares away buyers from even giving it a second thought. Knowing this I knew we could an offer accepted at far below list price. We wrote up the purchase contract and the seller promptly accepted.
Community cruising was not doubt the reason our client was able to get this home. How well did the deal turn out?
The property passed its home inspections and turned out to be one of the cleanest homes I have seen to date. They ended up closing for $85,000 less than the exact same floor-plan that sold 2 doors down. The house 2 doors down closed 4 days after they got their offer accepted and did not have a mountain view, pool, or spa.
How do you scout for homes?
Scouting for homes is the very first thing you should do when searching. Here's a few simple steps to follow:
Step 1: Create a short list of areas to scout:
Ask your agent for areas they recommend given your search goals.
Ask locals, friends, and colleagues familiar with the area for good areas to search.
Surf the internet about the area you are moving to.
Use google maps with satellite and or street view to pre-preview areas.
Look at listings online and write down addresses of ones that look interesting.
Step 2: Get in your car and scout the areas
Make note of how far you are from the areas you will visit most, work, school, shopping, etc.
Make note of upkeep of community.
Drive by listings you found online that looked interesting.
Write down any other listings you drive by that look interesting.
Step 3: Do a drive by before previewing
Before you preview any homes with your agent set aside time to do a drive by on each one. Once you have a short list of 4-6 homes you like share them with your agent and go see them in person.
Step 4: Share your findings with us
When you are done scouting share what you find with us. We'd love to hear your thoughts on the communities and areas you explore.