I moved to Madera Highlands in Spring of in 2009, what sold me were views of the Santa Rita Mountains towering over the community. I finally made it backpacking in those magestic mountains.
I have actually been to the summit the highest peak, Mount Wrightson but only on day hikes. Every time I took Old Baldy Trail. This is the shortest maintained trail to the summit. It's roughly 5.4 miles from the Madera Canyon parking area.
This time were were going to take Florida Trail and stay up for two nights. The Florida Trail is on the North West side of the mountain. The trail has lots of wildlife, vegitation, and most importantly water. Unfortunately, the road to that trailhead was closed due to the Sawmill fire.
We headed to Madera Canyon instead. We took the Super Trail from Josephine Saddle and I wasn't disapointed. The supertrail wraps around the Mount Wrightson to the East. This side of the mountain is less steep and lacks trees contributing to amazing views. It was a longer walk by a half mile but well worth it to soak in the amazing views.
We hiked until the sunset and setup camp on a ridge just shy of Baldy Saddle at 8400 ft. Both Mark and I were quite tired and not thinking clearly. We should have setup camp a few feet below the ridge. That night the wind picked up blowing through our camp at 50 mph, according to NORA. Neighter of us got any sleep and at around 4 AM my tent gave up the battle. A pole snapped and ripped the rainfly.
Note if you're ever going to do a backcountry adventure check the weather from NORA. There you can click on a specific point in the backcountry and get a weather forecast for that spot.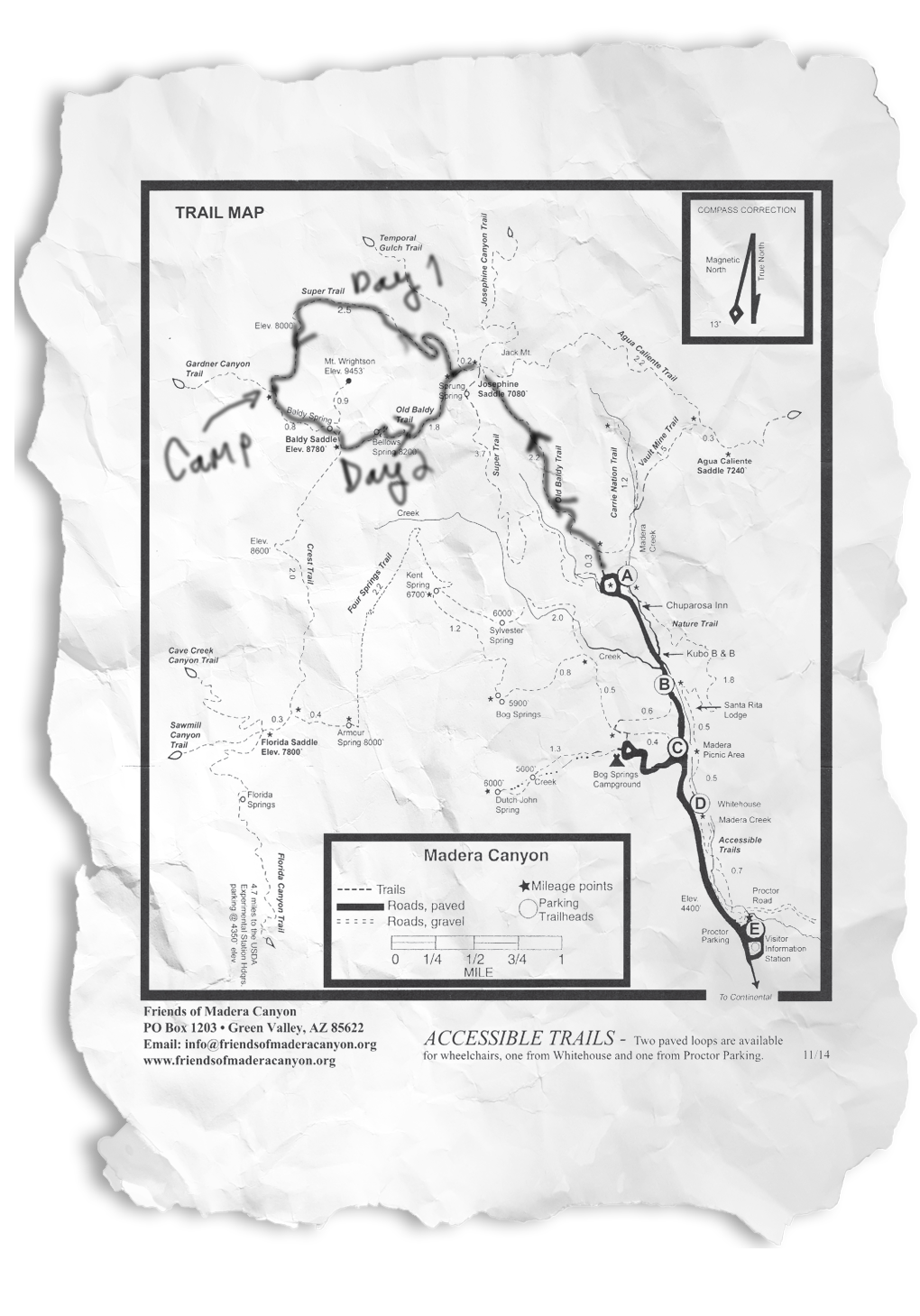 The winds persisted into the next morning as I struggled to packup my damaged tent. We picked up our gear and headed for Baldy Saddle. There I setup my stove an cooked a nice breakfast.
I figured I would sleep on the ground without my tent the next night. The only trouble was we could not find any water. All the springs on top the mountain were dried up. So we decided to head down and call it a trip. I was exhausted and headed back to my "Base Camp" aka home in Madera Highlands.
It's nice to have a home so close to adventures like this. I only need to get out more. Look me up if you're ever in the market for a new home. We'll get you a place close to a wilderness playground like this one.