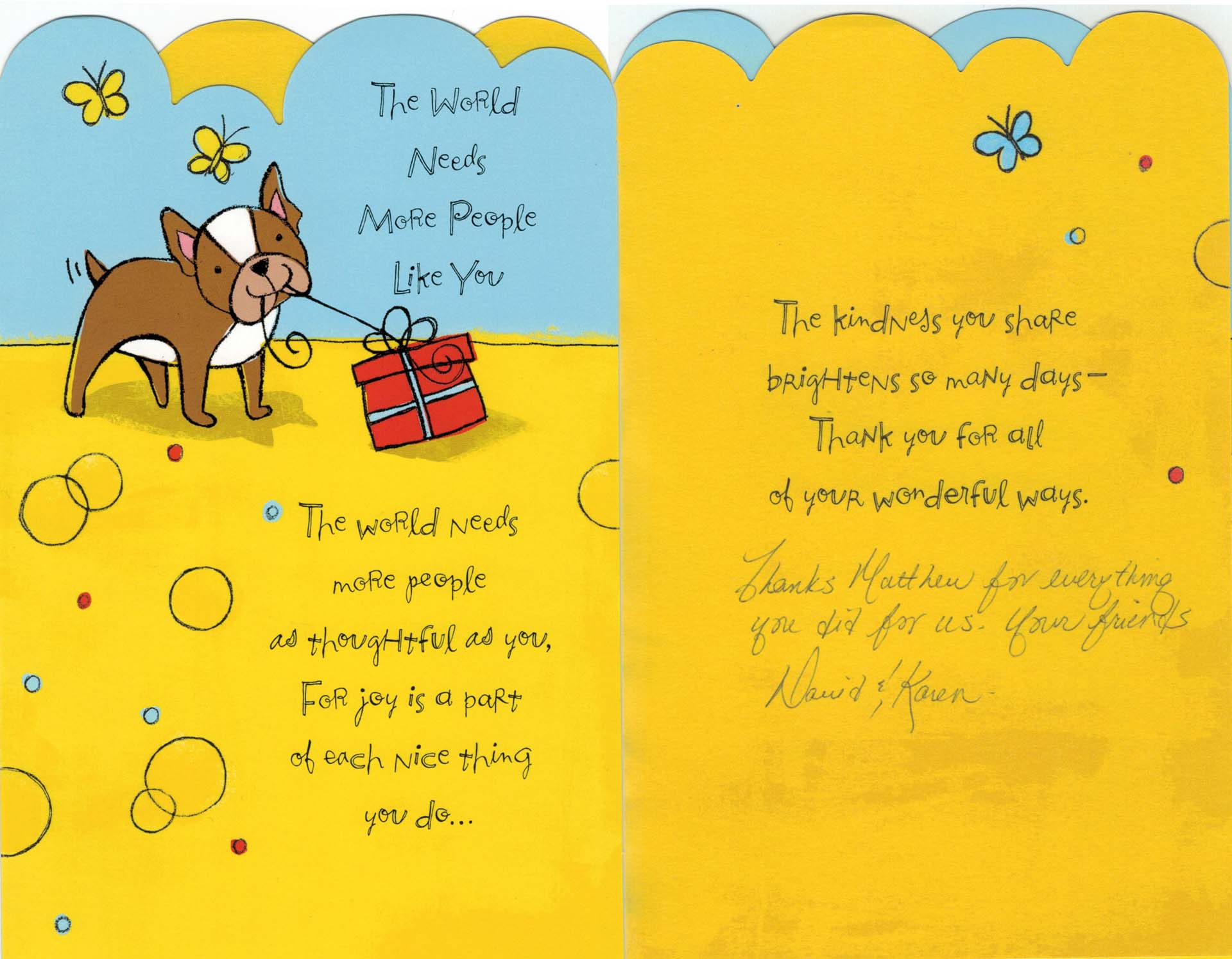 I've the privilege of living a very rich life. It's not the commissions that get me there, but the friends along the way. I'm very thankful for Dave & Karen whom shared their praise but honestly a little sad they now live so far away. You can see the very generous letter of recommendation they shared HERE:
Dear Prospective Buyer/Seller;
I would like to take this opportunity to write this letter regarding the wonderful experience my wife, Karen, and I enjoyed while working with Matthew Jeschke. Due to health reasons we were no longer able to pursue our snowbird lifestyle in Arizona, and therefore needed a realtor to sell our winter home. Don, a close friend of ours, highly recommended Matthew with Tierra [Antigua] Realty to represent us. Don had retained Matthew with the sell of his home and the purchase of a new home, in the same gated community [Rancho Resort] that we lived in. After Don had elaborated on Matthew's many positive attributes regarding his overall performance and enthusiasm, I followed up with a phone call from Canada to discuss our unique situation in more detail. I was immediately greeted warmly, and it wasn't long after that a rapport had developed between the two of us. Matthew Made me feel comfortable with his genuine, relaxed approach coupled with his ability to listen and empathize given our unique situation. I was not able to actually be down South from Canada, so I needed a Realtor that would be my eye's and ear's throughout the selling process. Matthew was excited and grateful for the opportunity, which was the key in my decision to hire him, and to move ahead with the plan of action.
Matthew quickly laid out a step by step systematic strategy for selling the house. With unrelenting energy and drive, he was able to assess what we had, what was needed, and then rely on his established resource to: 1) Prepare The House For Sale. By means of a complementary design audit, Matthew was able to assess and make necessary alterations needed to effectively promote and market the house. This included a thorough cleaning, followed by a team of professional home staging collaborators to rearrange the inside of the house to enhance overall perceptual appeal. 2) Promotion and Marketing. matthew utilized his knowledge and expertise with the latest technological tools to market the house. This included video production techniques, professional photography, drone photography and floor plan drawings. 3) Repairs. Home inspection requirements revealed certain repairs to be addressed. Matthew was able to line up the necessary contractors to fix those repairs within a certain time frame. 4) Documentation. Matthew was able to send all necessary documents, via the internet, which made things move quickly and efficiently. He responded to all my questions promptly.
Matthew continually informed me and brought me up to date on each stage of the selling process. He worked exceptionally hard to fine tune, tweak, and refine details when needed on an ongoing basis, and in collaboration with me, for a satisfactory and successful result. Matthew put in the time and effort to get the job done.
In summary my overall experience in having Matthew sell our home was a positive, pleasant one. He is loyal and can be trusted to give 100% effort from start to finish, with [an] overall high level of performance and business ethic. As a result, we not only built a strong business relationship, I am proud to call Matthew my friend. Anyone interested in buying or selling real estate, I highly recommend Matthew and just watch him work for you.
Respectfully Yours
David & Karen
This is one of the kindest letters I have ever received. There were a lot of people behind the scenes working to sell Dave and Karen's home with me. I want to extend credit to them as well. Heather, Michelle, and Don for helping prepare the home for market. Then the various venders that go us to the closing table; 2-10 Home Warranty, Steve with Cervantes Roofing, Matthew with My Handy Helper, Arnie from Dwight's Auto Glass, RK Plumbing, Charles at Title Security, and Cooper at McGeorge Accounting. I also need to thank Wali with ReMax. He worked hard with James with Summit Funding and Ian with Nova Home Loans to close out a contract that just couldn't seem to fund. They all gave it their best.
I want to invite you to join in on the fun. You can see us preparing Dave & Karen's home for market HERE. Everybody has that next move on their mind so drop me a line below and let's get that conversation started.