Sahuarita, AZ
1085 E Stronghold Canyon Ln
Videos
$187,000
MLS Number: 21230392
Size: 2198
Bedrooms: 4
Bathrooms: 2
3 car garage
Total rooms: 4
Patio
Year built: 2008
School district: Continental School District
Would you like new for the price of used?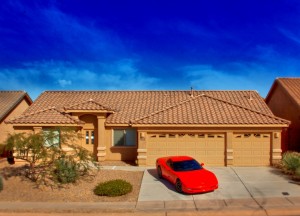 Have you ever wanted a new car, computer, TV, or home but all you could afford was something used?  Well that's not the case today…
This home was built in 2008.  Shortly after moving into the home the owner was transferred for work.
Since he has commuted back and forth to continue his meticulous upkeep of the property.
He is now ready to cut his losses.  The property has been listed at a fraction the cost of what it costs to build new.  So his miss-fortune is your gain.

The owner, a single engineer, occupied the property for around a year.  During that time he meticulously cared for everything.  He mopped, scrubbed, and vacuumed like there was no tomorrow.  He even covered all his cabinets with protective padding.
If you look close you'll be hard pressed to see anybody even lived in this property.  Plus the home isn't just a regular new build it's fully upgraded!  It comes complete with,
Stainless Steel appliances
Granite kitchen counter-tops
Gas oven & range
Dual pain windows
3 car garage
Marble vanities
Ceramic title in wet areas
Low maintenance lawn with automatic drip system
Upgradded carpets with upgraded pads
and more
It even still has the spare tiles and touch up paint!  CLick here to view more pictures of the home on Flickr
The floor plan is a beautiful split bedroom plan with both a family / dinning room and great room.  The two separate the 3 spare bedrooms from the master.
The split bedroom plan provides an open feeling that is super quiet and provides extra privacy when you have guests or children running around.
You cannot go wrong with this immaculate virtually brand new home.
Welcome to life in Madera Highlands, an awesome place to call home
And if you have not heard of Madera Highlands then you are missing out.  This immaculate home is located in the center of Madera Highlands just a short walk from the community pool and park.
Madera Highlands is a master community nestled in the worlds largest pecan Grove.  It also overlooks the majestic Madera Canyon.  In the spring the pecan trees provide a beautiful county woods feeling while the community's location in Sahuarita maintains all the modern city amenities.  In the winter the snow capped peaks of Mt Wrightson loom overhead.
Click here to share a sneak peak of this beautiful home with your friends on facebook
The community is just a short drive from Tucson via I-19 or Nogales Highway.  You can be to many parts of Tucson within 20 minutes.  Making it a shorter and less stressful commute than even being in Tucson itself.
So if you like stress free living, short commutes, and beautiful scenery then…
Here's what I need you to do next
You are sure to love to show you life in Madera Highlands.  Let's start by touring this beautiful home.  All I need you to do is,
Give me a call at 520-344-3481 to schedule a preview appointment today.
Or fill out the email form below with any questions you have.
PS.  You can preview any homes for free!  Call Matthew at 520-344-3481 to schedule your free preview appointment.
1085 E Stronghold Canyon Ln
Sahuarita, AZ
Your Agent for this listing
Matthew Jeschke
Arizona Licensed Real Estate Agent
Mobile: 520-344-3481
Other listings
[contact-form-7 404 "Not Found"]