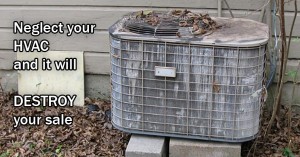 Let's chat about HVAC (Heating Air Conditioning and Ventilation) systems. Neglected HVAC systems can be a sales KILLER.
Buyers avoid homes with HVAC issues like the plague. Plus most banks will only finance homes with a working HVAC.
This forces sellers with neglected HVAC systems to provide STEEP discounts.
How much equity could you loose?
Summer of 2013 was a seller's market. I was helping a single mom and her little boy get a home. We waited in line for every home preview and all our offers were outbid.
We had to think outside the box.
We found a home with a stolen HVAC condenser unit (quite common on vacant homes). Everything else about this home was a buyer's delight. It had been built 5 years prior by reputable national builder, featured an attached 2 car garage, split bedroom plan, 3 bedrooms + den, top school district, and priced under $100,000.
Our offer asked the seller to repair the vandalized HVAC system to which they agreed. We moved forward and closed out the transaction.
The bank's appraised value came in $7,000 OVER the price she paid to purchase the home! Link below to see appraisal,

The market was in their favor for a sale at appraised value but with issues at hand they couldn't fetch a strong offer. This cost them a $7,000 in lost equity. Their homeowner's insurance deducible was likely no more than $1,000. Worst case, a new condenser unit is $2,000 installed.
Ask yourself, "Is it worth spending $2,000 to make $7,000?"
Now my friend, I am sure you answered yes as nobody likes providing $7,000 HVAC system discounts.
Before you hire a HVAC Contractor
AVOID HVAC MAINTENANCE CONTRACTS:
These typically tie you into unnecessary maintenance visits covering labor only (no replacement costs). HVAC systems only need one checkup (two tops) per year. A home warranty can be purchased for a few more dollars than the maintenance contracts, covers more of your home and includes replacement as well as labor costs.
AVOID FREE INSPECTIONS:
Nothing comes for FREE. We find free inspections typically result in equipment you DO NOT need so the contractor can cover the cost of their visit. HVAC professionals are in high demand. Figure a good HVAC company will cost roughly $100 for a health check.
HOMEOWNER HVAC MAINTENANCE TIPS…
A healthy AC will cool inlet to outlet vent by 20 Degrees Fahrenheit. Your heater should blow noticeably HOT air out your vents when engaged as well. If not performing to this level you need to order a professional to service your HVAC system. Here are a few things you can do to ensure your system continues to operate efficiently.
(1) Inspect HVAC filters monthly and replace as necessary. This ensures your air exchanger is clean and the blower can work at maximum efficiency.
(2) Cleaning HVAC condenser coil (outside). Your hardware store will sell a spray on cleaning solution and instructions.
(3) Test and replace your thermostat batteries regularly. A dead battery can result in re-inspections costing hundreds of dollars once under contract.
UPGRADE FROM EVAPORATIVE COOLING…
Tips in this email do not pertain to evaporative cooling systems. If you have a evap cooler we STRONGLY encourage you upgrade. Modern central air cools better and fetches more money than similar homes with evap cooling. How much more money? Adjustment values consistently show $10,000 more for modern central air systems on single family homes closed at $100,000. System cost is around $5,000 depending on your home and easily recouped sale given your loan is paid down sufficiently.
What you need to do RIGHT NOW
Here is EXACTLY how we help our clients avoid ALL HVAC issues and EXACTLY what you need to do.
1. ORDER A MAINTENANCE VISIT FROM A LICENSED & INSURED HVAC PRO.
If in Southern Arizona visit this page to choose your HVAC pro,
http://www.keystoaz.com/trustedpros/
Order a maintenance visit within 3 months of putting your home on the market AND at a minimum once per year.
Get competitive quotes if the HVAC professional recommends any large repairs ($500+).
2. WHEN LISTING YOUR HOME OBTAIN A COMPLEMENTARY HOME WARRANTY.
This will cover any home issues (including HVAC) for the cost of the deductible, roughly $60. When you close your sale you pay a 1 year premium for the buyer, roughly $500. This is an EXTRA incentive to buy your home which typically nets you MUCH more money than the cost.