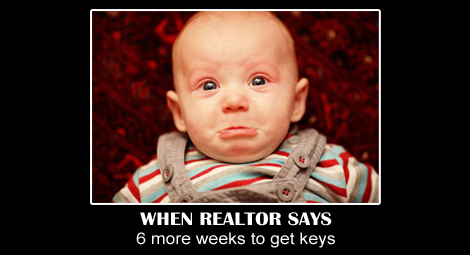 It can take a couple months to get keys once your offer is accepted… Wait, why so long, why can't you get keys now?
When you wrote your offer you may have spent as little as 15 minutes previewing the home.
Fifteen minutes is a TAD meager for what is likely the largest, most important, transaction of your life.
Despite you wrote the offer in "good faith" you MUST perform a little more diligence before you commit to the purchase.
Performing a Quick Close
The key to a timely transaction, aka a quick close, is to plan for a long contract period. Here is an idea of how long contract activities can take.
Evaluating Condition 32 days:
Inspection 10 days + Repair Negotiation 8 days + Repair Completion 14 days
Obtaining Clear Title 10 days:
Title Search 5 days + Title Report Review 5 days
Financing 45-60 days:
You can speed up financing by ordering appraisal immediately but risk eating the appraisal fee if you back out of contract.
Requesting a quick close up front puts pressure on folks helping you with diligence increasing risk of mistakes. When mistakes occur we go into damage mode and extend your escrow. If the seller is not amiable to extending escrow / closing you can loose the contract and earnest money in the process. This is why we advise all clients to allow 2 months for financed transactions and one month for cash.
Now do they all take that long? No, sometimes they take half that time in which case we speak with the seller and move up the closing date. The trick is, you ONLY move in your closing date after contract contingencies aka diligence is complete. This way nobody is under unnecessary pressure and you are protected.
Another quick tip for fast close is to use lenders, title company, and contractors your agent has experience with. Have them ALL start their diligence as quickly as possible.
Everything depends on you going through the contract period in a timely manner so before we get you under contract to purchase a home…
Before we even write a contract…
You need to know, what takes place after your offer is accepted.
I'm going to warn you up front, this is going to be a LONG article. Keep in mind your superhero agent is always there for you despite you are ultimately responsible for any purchase contracts.
#1 Evaluating condition
The inspection contingency is for you to evaluate the home's condition. You may employ inspectors, at your own expense, to inspect the home on your behalf,
Home inspector – Evaluates general condition of home
Sewer inspector – Evaluates condition of sewer lines
Mold inspector – Evaluates bacterial contamination / health risk.
Roof inspector – Evaluates condition of roof
Pest inspector – Checks for presence of insects
County / City Inspector – Checks / issues permits
Surveyor – Checks boundaries for the property
and more.
NOTE: You may ONLY work with licensed and insured professionals.
These professionals provide you with reports and quotes as needed for their findings. The reports can be shared with the seller and repairs negotiated or the contract canceled. You may NOT pay for or do ANY repairs until after the home closes though. If the property needs repair for you to close you can negotiate with the seller to complete at their expense or cancel the contract.
Few things to keep in when negotiating repair items,
Sellers are NOT agreeable to renovation requests (e.g. new flooring, to paint, landscaping, etc)
Focus on big ticket repair requests only, percentage or more of transaction amount.
If you upset the seller over a repair request you risk loosing opportunity to get ANY repairs completed by the seller.
Request ONLY items you had NO KNOWLEDGE of when writing offer.
Credit to the purchase price in lieu of repairs may require starting offer process over again and risk loosing the property.
Request major repairs such as roof, air conditioning, electrical, etc.
Seller required to maintain
Contracts may include seller warrantied Items that must convey in "functioning" order. A couple things to note about seller warrantied items,
Warrantied items only have to be maintained functioning by seller until closing.
Warrantied items DO NOT have to continue functioning after you take ownership.
Warrantied items only have to maintain a basic "on / off" level of functionality, everything else is up to interpretation.
Contracts without any warrantied items are referred to as "as is" sales. "As-Is" does not mean you are obligated to buy the home if defects are found. It means the the seller does not agree to maintain warrantied items. Most lenders WILL NOT loan on as-is transactions. Especially if repairs are needed.
It is important to review which items are "warrantied" in your contract. Typical warrantied items are,
Heating, Ventilation and Air Conditioning (HVAC)
Sewer and Pluming Systems
Electrical Systems
You may elect to include an extended / buyer home warranty in your contract. This increases the number of warrantied items and extends beyond the date you become owner.
There's one last, warranty of sorts concerning force majeure, acts beyond the control of the buyer or seller. The property MUST also convey in substantially the same condition as when you went under contract. As a general rule of thumb if more than 10% of the purchase price in damages have occurred the seller is no longer obligated to sell the home.
#2 Obtaining CLEAR title
A title company researches chain of title (former owners leading up to most recent owner). They ensure you can own the home free of any former claims to property, in the title contingency. Once the title company has performed their "title check" they give their blessing through a "title insurance policy" guaranteeing their report. If any future defect is found in the title company's work, then the insurance policy will kick into cover any possible damages. This insurance policy is outlined in a "title report" delivered to you prior to closing on the home.
Along with the "title report" any additional property information is also delivered such as but not limited to,
Road maintenance agreements,
Well share agreements,
Covenants, Conditions & Restrictions along with deed restrictions,
Lot maps,
Easements,
etc
If it's recorded the title company should have access to it and shared with you in the title report. If you find issue with any of the items and your ownership of the home you may have opportunity to exit the contract in the title contingency.
The title company typically also handles escrow. Escrow is a neutral 3rd party who disperses funds according to terms of contract at closing. They collect funds, including your earnest money deposit and hold them in a neutral account. Escrow then executes closing documents with both the buyer and seller. After execution they record the title in your name and your agent gets you keys to your new home.
It's important to note that neither escrow OR the title company can arbitrate disputes. They can only execute instructions per the contract. If the contract is broken arbitration starts with the real estate broker / brokers involved.
Quick tip: some contracts do not provide a title contingency. Once property inspections are complete you may be locked into these contracts. We request the title company deliver the title report immediately after getting to contract. Then you can review the report during when you have a clear way to cancel the contract should you find issue.
#3 Financing (does not apply to cash transactions)
The lender performs their own inspection in the financing contingency. This inspection is performed by an independent appraiser. They check condition and safety of the home as well as review similar home sales to ensure home is of adequate value to justify the amount borrowed.
The lender also re-evaluates your financials during this time before closing the loan.
During this time it is VITAL,
DO NOT OPEN ANY NEW LINES OF CREDIT
DO NOT MAKE ANY LARGE PURCHASES EFFECTING YOUR CASH RESERVES.
DO NOT CHECK OR EVALUATE YOUR CREDIT ESPECIALLY HARD PULLS THROUGH LENDERS
It is important to note there IS NO APPRAISAL, aka financing contingency, if you are using cash! You can certainly obtain an appraisal if you are purchasing a home cash. However, you'd need your agent to write a custom contingency if you want to back out due to a low appraised value.
Make note, NEVER SHARE, your other inspections with the lender! The lender has their own inspection via the appraiser. If you provide any other inspections outside the appraisal they may make any defects found a condition of financing. Any added conditions make it more difficult and potentially impossible to close out the transaction putting you at risk for loosing your earnest money and the contract all together.
Avoid the dreaded moving van mistake
We advise NOT to organizing the moving van for the day of or even the day after you close.
So many times the closing date gets changed. Then you pay for storage.
Make the move EASY on yourself by padding your moving date by 3 to 4 days.
Take out an air mattress and sleeping bags. Have minimal items for the day of closing.
Leave the moving van for later. It will save you a tremendous amount of stress.
What you need to do now
There will be a quiz on this information. And I'm serious. There will be a quiz. The quiz is, your purchase contract.
The better you understand this lengthy article the smoother your transaction will go.
Plan on the following timelines,
1 month to close a cash transaction.
2 months to close a financed transaction.
4 to 6 months to close a short sale transaction.
4 to 6 months for track home / new construction.
SCHEDULE MOVING VAN FOR 3-4 DAYS AFTER CLOSING
Note: A short sale is homeowner who cannot pay off balance owed the lender so they negotiate with the bank to forgive the debt.
Complete the following activities NOW,
Keep in mind the big three contingencies inspection, title and financing.
Watch this tutorial on the Arizona Association of Realtors Purchase Agreement
Review you buyer disclosures
Hire your agent.
Do not fret, your agent is here to help you every step of the way.
Looking for help buying a home or have a friend who would like to buy? Visit this link to get started