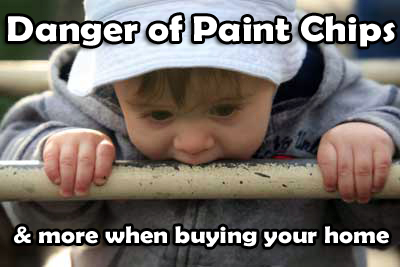 Paint chips are probably already off your menu but do you know what else to watch out for when buying your next home? Learn in these valuable guides…
These guides aka disclosures are very informative. Typically you would see them at the last minute and have very little if any time to review them.
That is why we are providing them up front so you can sit back, relax, and learn everything there is to know about your next home purchase.
Quick tip: Right click "save as" on the links to download the docs to your computer.
Prior to searching for your home
The following four disclosures are REQUIRED to be delivered to you and reviewed before you can search for a home. Make SURE you open these prior to meeting with your agent.
Buying a house built prior to 1978?
Link: EPA Lead Based Paint Pamphlet
Lead based paint was commonly used prior to 1978 when it was phased out due to health risks. You will want to take a look at this brochure from the EPA about Lead Based Paint.
Things to consider when buying a home in Arizona
Link: AAR Buyer Advisory
This brochure from the Arizona Association of Realtors provides you a list of things you will want to consider when purchasing your next home. It's complete with web links to do your research.
Want to shop your referrals?
Link: Tierra Antigua Affiliated Business Disclosure
Real Estate Sales and Procedures Act requires all brokers disclose business relationships. This gives you the opportunity (1) understand who you are being referred to and (2) shop a better rate if you prefer.
Who represents you and who represents the seller
Link: AAR Real Estate Agency Disclosure and Election
Defines what capacity your broker & agent represent you in along with what items are considered confidential. This form is REQUIRED to be signed before any work begins.
Info on making your offer
The following two disclosures accompany every offer you write.
Risks in the Real Estate Market
Link: AAR Market Conditions Advisory
Your broker and agent do not have a crystal ball. Real Estate markets can go up and they can go down. This is a risk every homeowner takes.
Health Risks in Buying a home
Link: AAR Mold Disclosure
Mold is a risk in any home in any climate. This disclosure outlines mold risk and your opportunity to obtain a mold inspection.
Sellers tell you about their homes
The following disclosures may accompany any transaction we execute.
Items every seller is asked to disclose
Links: (1) AAR Property (2) AAR Well (3) AAR Waste Water (4) AAR Rural Disclosure
Every Arizona Association of Realtors Contract is accompanied by #1, a Seller Property Disclosure Statement. This is a minimum set of disclosures to be made by the seller. You may also see #2 and #3 if the property is on a private well or has a septic tank. Lastly, if property is in an unincorporated section of the county outside of a development you will also see #4 which discloses services available in the area.
Risk of pools and pool safety codes
Link: AZ Department of Health Safety Pool Disclosure
Provide a nice overview of pool safety and what to keep an eye out for when purchasing a home with a pool.
What to do next
Make sure you review the first four disclosures PRIOR to meeting with your agent and beginning your home search. Take any questions you have to your agent.
Time permitting review the additional disclosures. You will be seeing them in your home buying experience. The more time you have to review them the better prepared you will be when purchasing your home.
Need help buying a home? Visit KeysToAz.com/Buying/ watch the short video and click the link to fill out your home buyer questionnaire.