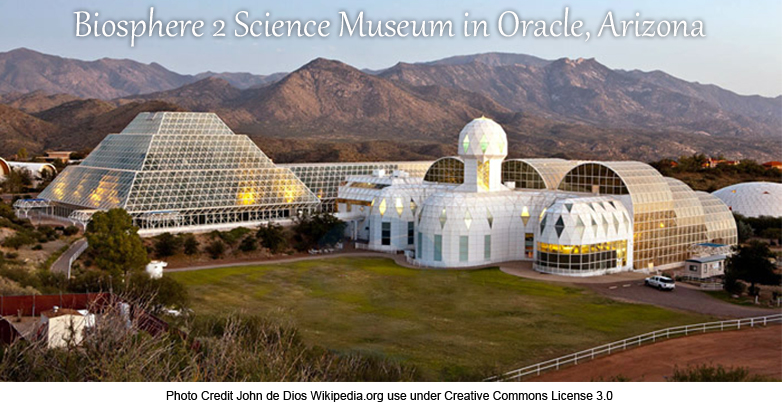 The Biosphere North of Tucson has always been on my list of must see places. Surprisingly I'd not been there despite having lived in Tucson since 2009. Today my story changed. We took a trip up there with my parents and brother who are visiting for the holidays.
We arrived around 10 AM figuring it would take the entire day to tour the facility. It only took a couple hours. I imagine you could easily spend longer but have a hard time seeing somebody spending an entire day there.
Exhibits are well documented with lots of interpretive signs to read. The museum features an indoor rain-forest, desert, and miniature ocean, possibly more, if we missed anything on our tour.
Despite being a short tour it was well worth it. I was most fascinated by the large lung which helps maintain pressure in the sealed facility as the temperature and weather conditions change outside. You go through a series of sealed doors and I could feel the facility's mechanical lung blow me out the door. Pretty cool for the nerdy engineer inside me. The exhibits are playgrounds for scientists to do experiments on ecosystems and biology of our planet. All in all a really cool stuff for the inner nerd in each one of us.
I would consider getting a year's membership (my folks wintering here got one). There are numerous lectures offered on the tour. I had the opportunity to hear an astronomer give a really captivating talk on astrophotography. You can come back to any of these science lectures as a part of the membership.
The facility is nestled in a very scenic area as well overlooking the Tucson Basin and north of Catalina Mountains. It's one hour north of downtown Tucson just shy of the town of Oracle. Biosphere is now on my list of places to take friends & family when they visit. Although, I will probably plan a morning trip then save the evening for a hike in Catalina State park which is a short distance from the Biosphere.
PS. I had wanted to photograph & video the facility for you but they had a restriction on bloggers using cameras at the site so enjoy the video and picture I found on the web for you 🙂