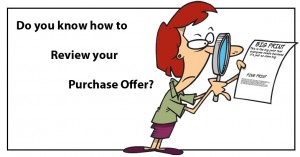 A while back we got an offer on a listing of ours. It was a bit below list price.
The seller was discouraged. They said to toss out the offer, that they were not even going to respond.
We advised them to sleep on it and think of what they wanted, buyers offer aside.
The next day we encouraged the seller to reply to the buyer in a counter with what they wanted.
The buyer responded to their counter with a full price contract minus buyer closing costs.
Never take an offer personally
There is NO SUCH THING as a bad offer. We LOVE all offers, low or high, any offer is a good offer.
It shows that we have buyers interested in your home.
If you feel what the buyer asks of you won't work then it's you turn to reply with what will work for you.
When you reach a place that works for the both of you (this buyer or the next) you have a contract!
That is why we advise you to NEVER reject a offer, always reply with what you want.
What is a purchase contract?
Once you have agreement on terms, aka what the buyer will deliver you and what you are delivering the buyer, then you are under contract.
Earnest money is deposited in a neutral account known as an ESCROW and the contract process begins.
The contract is basically a effort on the part of title, lending, agents, and professional contractors to clear out the big three contingencies.
If for any reason a contingency cannot be cleared out the buyer can cancel the contract and get their earnest money back.
What are the three big contingencies?
Inspection Contingency
Every buyer has a window of time to evaluate condition of the home in depth. If they find items that would effect their decision to buy then they either (1) cancel the contract or (2) request you remedy the items.
Title Contingency
Every home has to convey clear and equitable title. A title company reviews the chain of title (former owners) to make sure everything was processed correctly. They fix any issues as found. If issues cannot be resolved then the buyer can back out of the contract. Otherwise, they issue an insurance policy guaranteeing their work and freeing you from the title on the property. Escrow then performs paperwork to transfer ownership.
Financing Contingency
If the buyer is borrowing money there's a financing contingency. If for some reason through no fault of the buyer they are unable to qualify for the loan they have opportunity to notify you and back out of the contract. Otherwise the funding investor / bank performs an appraisal. When the home comes in at or over value, then the buyer can fund and close on the property. If you home does not appraise they can back out.
Custom Contingencies
Buyers may ask for any type of contingency for any reason. Another common one is a request to wait for their other home to sell before they purchase yours. I once had somebody make a purchase contingent on the ability to install a fireplace. If you are doing a short sale (negotiating a lower pay off with bank) then there's a short sale contingency to make sure the bank approves your request. Make sure to review your purchase offer closely to see what contingencies are included.
A good agent has ways to reduce risk of buyers falling out of contract and get your home to closing. There's hundreds of little checks done to ensure this. Too many to list here. Rest assured any contract you receive will likely have at least these three contingencies.
A few quick tips to make your sale a breeze
Always be courteous listen to the buyers concerns, desires, and questions. Even if they sound completely unreasonable. If you want them to listen to your concerns you need to listen to theirs first.
Always counter or accept, NEVER reject rejecting an offer is shutting the door to any future opportunity with that buyer and possibly even their agent. The buyer asked for what they want. Now it's your turn. Even if you want full list price make sure to reply to the buyer and you may be delightfully surprised.
Be prompt time is of the essence here. We need to make our response to the buyer no longer than 24 hours on all communications. Have access to your email, voicemail, and phone. Check them several times a day.
Keep calm surprises are going to come up. We have solutions to most all problems big or small. Do not dwell on anything. Listen to the options available to you, pick one and move on.
Be Positive no matter the outcome, being positive is the best outlook in life. It also provides you a calm from which you can make sound decisions unclouded by fear and dark emotions.
What you need to do now

Now is the perfect time to review the Arizona Purchase contract. Below is a short video running through just that!

Right Click, "save as" to download a copy of the Arizona Association of Realtors Residential Purchase Contract