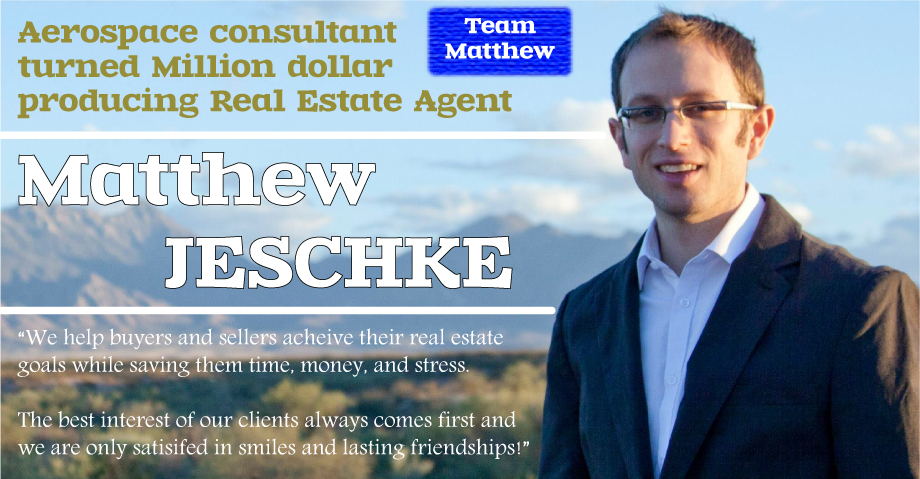 Matthew obtained his Masters in Computer Engineering from Iowa State University in 2007.
He has since consulted on numerous projects including flight controls for the Boeing 787 Dreamliner, Rockwell Collins flight displays, Boston Scientific Pacemakers, and the Global Traffic emergency controls you see at most stoplights.
In 2013 Matthew left engineering and joined the largest private Real Estate company in Arizona, Tierra Antigua Realty, to take on his passion for business.
He assembled a top notch team of Real Estate professionals in Title, Lending, and Sales to assist clients with all their Real Estate needs.
His high level of professionalism which served him well on multimillion dollar projects, became an invaluable asset in Real Estate.
The list of clients grew quickly resulting in 11 sales and over a million dollars in volume for 2013 alone.
The best part of his story has yet to be told though and that's meeting you.

A proud member of the Tierra Antigua family
Sometimes you just know that people truly do care for you.  That's what working with Tierra Antigua is like.  The owners Matt and Kim Clifton, go out of their way to help clients and agents.  Their belief is the client's best interests should always come first and the company strives to exceed all expectations.
This strong believe is what has transformed them from a small start-up in 2001 to one of the largest privately owned companies in the South West.  But Tierra Antigua is more than a company.  It's a family with 800+ agents and a leader in the community.  You will see Tierra Antiguans volunteering throughout the community and the company working hard to raise dollars for worthy charities throughout Southern Arizona.
Tierra Antigua, it's owners, and agents have helped thousands of individuals realize their dream of home ownership.  Home is much more than four walls and a roof though.  Home is a since of security and well being.  It's being part of a community.  You feel at home immediately after you start working with Tierra Antigua.  That's because they are a locally owned company, proud of their community, thankful for your trust, and eager to give back.
We welcome you as a member of our community at Tierra Antigua and look forward to assisting you with your future Real Estate needs!
Meet team Matthew at KeysToAz.com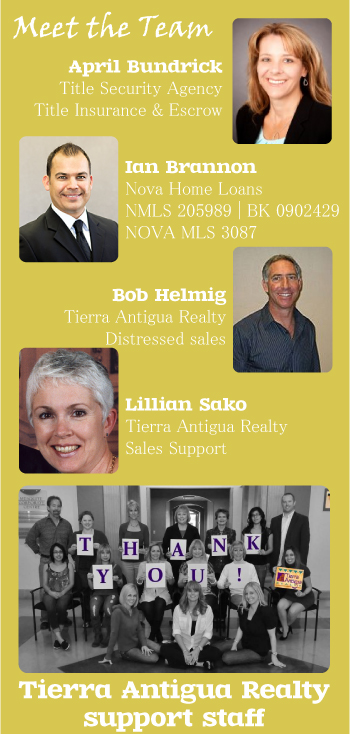 Title and Escrow Services by April Bundrick at Title Security Agencny
1650 E River Rd Ste 105 Tucson, AZ 85718
Phone: 520-529-1944
Email: april.bundrick@titlesecurity.com
No transaction is complete without title insurance.  April is top notch.  She's there to answer all your needs about taking or transferring title.  She has gone out of her way to assist clients and prides herself in offering the best services possible.  My clients have come to trust her and I'm sure you will appreciate her services as well.
Home Loan Services by Ian Brannon at Nova Home Loans
1650 E River Rd Ste 104 Tucson, AZ 85718
Phone: 520-577-4761
Cell: 520-837-9949
Fax: 520-762-6067
Email: ian.brannon@novahomeloans.com
Ian works hard to find you the best loan so you don't have to.  He works to get banks to compete for your business in effort to save you thousands of dollars.  My clients have been shocked at loans he has been able to get for them.  And the best news is many times he was able to beat the best deal they could barter with their own banks.  That is why my clients have come to trust Ian and I'm sure you will appreciate his services as well.
Other buyer and seller agents
Bob Helmig is a trusted Shot Sales consultant.  We work closely together to assist underwater sellers in need of moving.  He has helped my clients negotiate for the bank to cover moving expenses and close on short sales in record time.  Bob helps make short sales easy despite the overwhelming complexities of negotiating with big banks.  That is why my clients and I have come to trust him as an expert in distressed sales.
Nobody wants to turn any client away.  A part of being a good Real Estate agent is knowing when there's too much business to handle.  Lillian Sako is always here to help so we can provide every client all the care and attention they need for a successful real estate experience.  She treats my clients every bit as well as I do.  I have come to trust her when I need help and my clients enjoy working with her as well.  That's why Lillian is my go to agent for extra help.